Swim With Dolphins - Wild Dolphin Snorkel Expedition
Wild Dolphin Snorkeling & Communication Expedition
Dolphins make use of every aspect of their environment for fun and enlightenment. I've been studying Atlantic spotted dolphin (Stenella frontalis) and bottlenose dolphin (Tursiops truncatus) in an ocean wilderness known as 'The Bahama Bank' since 1995. If you are interested in learning from wild dolphins in their own natural environment this expedition could be one of the most amazing experiences of your life. Our home for 6 nights is a 90ft private air-conditioned liveaboard dive yacht. We board in Florida and spend our time cruising the Northern Bahamas in the prime dolphin habitat. This area of extreme natural beauty is well known by naturalists, photographers and wildlife documentary makers, to be the best place on the planet for close up wild dolphin encounters. Here in the heart of the Bermuda Triangle we will study these friendly wild dolphins and they will study us. This is one of those ocean experiences that transcends words.
Date of expedition: Saturday July 6th-12th 2019
Embarkation time/point: 4pm
Port of Palm BeachFlorida USA (losest airport PBI, FLL & MIA)
Ending time/point: 11am Friday July 12th (same place)
Contact: email: WildOceanAdventures@hotmail.com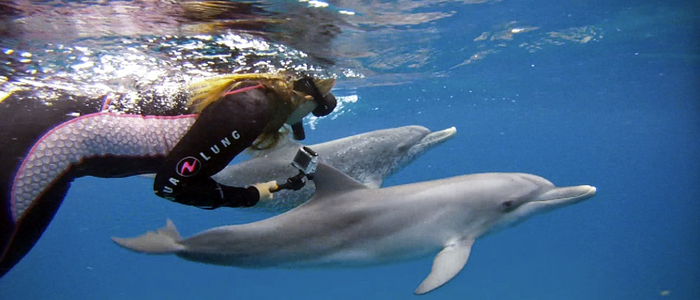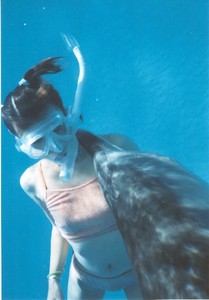 Snorkelers have been experiencing wild dolphin encounters on the 'Bahama Bank' since the early 80's. This area is very special, as it was not the people but the dolphins themselves who initiated first contact with us. The dolphins first started to get curious about treasure divers in the 70's. By the 90's, when I first met them, the dolphins were playing with people on snorkel. As time went on, these magical encounters in paradise got more and more frequent. We found that if we approach the dolphins on their terms, with the understanding that we are in their world and with respect to their space, the encounters were greatly enhanced. We do not chase after dolphin or use any type of food or pressure to entice them, they choose to come and play with us becasue they like us and they enjoy the amazing interactions as much as we do.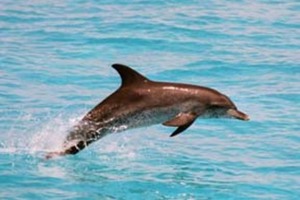 The dolphins enjoy riding the bow wave of the boat and swimming with the funny looking humans, maybe as much as we love swimming with them. Most people go home saying swimming with wild dolphins was one of the most amazing experiences of their life; the others just can't put it into words! The dolphins are wild and free, they decide when and how long they will play with us. On average dolphin encounters last from between a few minutes to several hours. The dolphins live in the area year round, windy weather is our only enemy as it prevents us from seeing them in the waves. For this reason we choose late June or early July, being the time of year with the calmest ocean : ) All the interactions with the dolphins are on snorkel, not scuba. If you are a scuba diver you can scuba dive for no extra charge on the reefs. Close to the edge of the 'Bahama Bank' there are beautiful reefs teaming with tropical Gulf Stream fish life and colorful corals. Freedivers can swim down on a breath hold and take a closer look at this underwater oasis.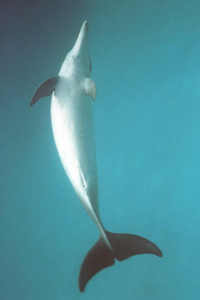 Depending on which area the dolphin are in, if we are really lucky we may get an opportunity to check out some of the local Bahamian sharks. If you have any fear of sharks don't worry, chances of seeing the sharks here in summer are pretty slim as they prefur cooler winter temperatures. The large dive platform gives great opportunities for photography of the sharks without entering the water. If any sharks bless us with an appearance, scuba divers may get the ultimate in water option. You will learn that sharks are not the agressive creatures they are made out to be by the media. In fact sharks are extremely important to our ocean ecosytems, they keep the oceans healthy and they desperatly need our protection. I encourage you to learn more about how beautiful sharks are and how important they are to our very own survival and to life in our oceans.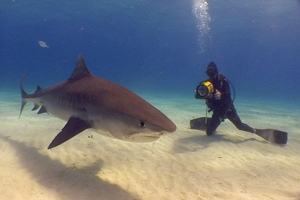 These are the friendly dolphins that we see on the TV and internet. The BBC, the Discovery Channel, Animal Planet, the Cousteau Society and National Geographic have all made documentaries on this group of friendly wild dolphins. They use the same small ship as we do, living for the week out at sea with the dolphins. Even the popular comedy show 'Absolutly Fabulous' shows footage of these amazing friendly dolphins in Edinas office. Most TV production companies, including the BBC, re use footage again and again, so I often see wild dolphins that I have met and know very well on the tv : ) Seeing them on TV make it seem like they are easy to find. In fact there are only 1 or 2 captains remaining that have the knowledge and a suitable vessel to find these free ranging dolphins. These trips are only operated by private charter a few times each year, with just 12 guests on each so it is very limited and very special.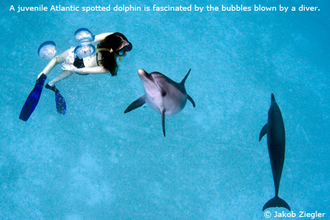 We live onboard, this means we get maximum time with the dolphins every day. The boat is very stable, so people feel good all the time. The boat does not rock and roll even in choppy seas and she is set up like a floating air conditioned hotel with all the comforts of home.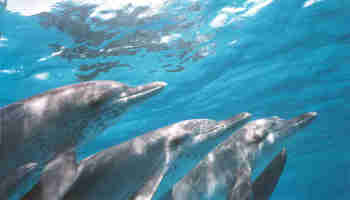 Numerous people have expressed to me, after their expediiton, that interactions with these wild dolphins have resulted in long term healing effects on their depression or feelings of anxiety. Others have told me of pregnacies shortly after being onboard, when they had been trying without luck for years before. I personaly have seen many healing experiences around dolphins. Dolphins have an extreemely positive effect on us and it is very natural for our bodies to receive healing from being surrounded by nature and warm turquoise ocean even without dolphins present. How could anyone not benefit from being in the company of wild dolphins, they are amazing beings who, just like whales and elephants, use sound vibration healing in their everydays lives.
Please email with any questions: WildOceanAdventures@hotmail.com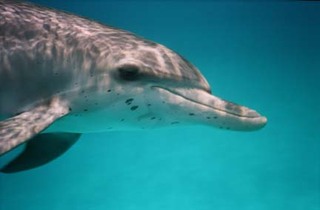 I give informative guides and safety sheets to anyone joining an expedition. These guides can be printed at home before you join the expedition, they help you to get close up dolphin encounters and wonderful photos while being on the dolphins terms. The picture guides are based on my own studies of dolphin behaviour, recorded on multiple expeditions each year for 23 years, with the same wild dolphins that we swim with. The results being we get very close to these particular dolphins, close enough to look into each others eyes and see there's someone looking back with as much wonder and awe as our own. We learn how to act in a manner that is acceptable to dolphins, dolphin etiquette you could say : ) Sometimes these curious wild dolphins will come so close that you think they will bump, but they are very coordinated, they know exacyltly where we are. The dolphins seem as curious about us as we are about them.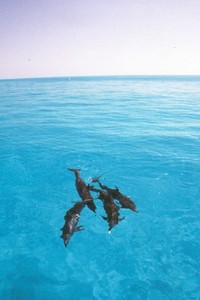 Depending on which area the dolphins are in, we will be able to snorkel (or scuba) on either the sunken shipwreck 'Sugar Wreck', or alternativly we could go to the famous Bimini Wall which. Bimini wall is an undersea stone foundation that looks like a road or a paved sunken city floor. Many suggest it was the lost city of Atlantis! One thing is for sure when you look at this ancient structure it does not look naturally formed.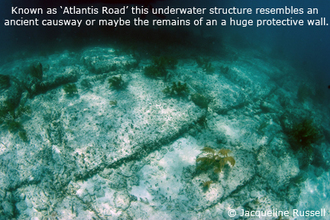 We often experience the dolphins at night, which is a very special and truly magical experience. We have big lights on the back deck, this makes the warm water around the boat light up like a turquoise swimming pool. It's a unique and very special way to see the dolphins catching fish and hear their buzzes and clicks, as they echo locate to find their supper. It's amazing to actually feel the dolphins sonar vibrating through your body, while you float on the surface of the ocean under the moonlight and stars.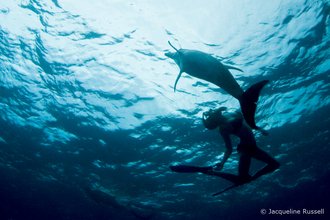 If you're not a seasoned snorkeler please get some practice before you come. You don't have to be an expert, just be able to use the mask and snorkel confidently in the ocean. These types of wildlife expedition won't be around forever, nature changes and the dolphins can choose to leave the area and move to a new home at any time. Our only chance is to experience these things while mother nature is providing them for us to see and learn from. Unfortunately these wild habitats are being threatened by oil drilling, Navy testing and natural disasters. The dolphin population in this amazing area has dropped to less than a third of what their population was in this area 20 years ago. Unfortunatly there is still no real protection for the dolphins or their habitat in place, but we are trying to remedie that.

Our floating home in the Bahamas is spacious 90ft air conditioned dive yacht, with a relaxed atmosphere. It's perfect for Bahamas expeditions with comfortable twin bed cabins and we only allow 12 guest maximum so there is no overcrowding the dolpins. There is a shaded top deck for relaxing with a good book or favorite music as we take in the beautiful ocean colors. The cook will gladly accomodate any special diets, and the crew are happy to help with cameras or anything else we may need. All ages are welcome, as long as you can snorkel and unserstand the safeety briefing.