Whale Shark - Manta Ray - Snorkel Expedition
Manta & Whale Shark Snorkel Expedition
Whale sharks are magical looking animals, covered with the stars of a moonless night sky. Manta glide in an

underwater ballet, wings outstretched like angels of the sea.
I've been studiying these amazing marine animals since 1995, firstly in Western Australia and then since 2005 in Mexico's Yucatan.

Our tiny island home for this expedition is off of the Yucatan Peninsula and is a protected site of the Yum Balam ecological reserve.

Here we can snorkel in warm tropical waters surrounded by whale shark and manta ray.
We are teamed up with the guys that first discovered the whale sharks and we go with one of the
original protection program guides.
Any images we donate with identifying marks or scars on the animals can help local programs identify and protect the animals.
Date of expedition: UNKNOWN
Meeting time/point: 1pm Cancun International airport Terminal #3
Ending time/point: (same place)
Contact: email: WildOceanAdventures@hotmail.com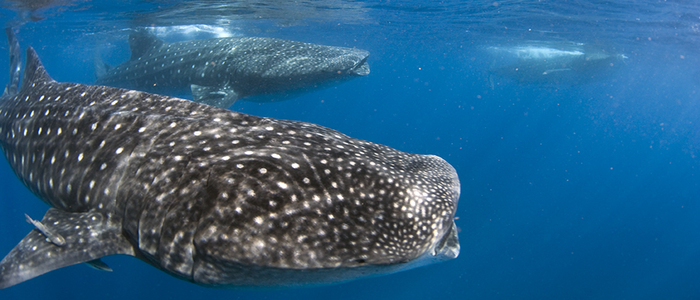 MANTA RAY - Manta birostris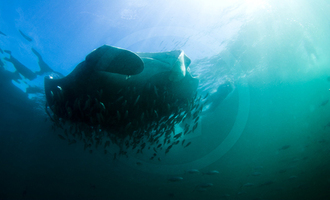 Manta Ray Manta birostris, can grow up to 6.7m (22ft). They are not fish or mammals, but are a member of the shark family, just like whale sharks. I recognise a number of the friendly manta in this area on sight, as I've been studing this particular group of manta since 2005. To swim next to one of these awesome beings from the deep ocean is an incredible experience. We get really close encounters, that exceed even my expectations, and that's a pretty tall order!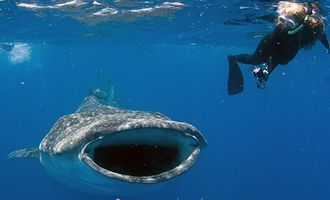 Whale shark and manta ray are filter feeders, feeding on zooplankton, small fish and squid. A whale sharks mouth (2-3m/6-9ft wide) can engulf huge volumes of water which is filtered by a sieve-like structure inside the five pairs of gill slits on the sides of the head. Large numbers of manta ray and whale sharks gather at various places, at specific times each year, to feed on rich plankton concentrations, attended by their pilot fish and remora. In 2005-2008 we were seeing whale shark and manta spread out as mostly solo animals, occasionally in pairs in 4 areas West Of Cabo Catoche. 2009-2010 we were seeing 50-80 whale sharks all feeding together, an increddible site. These were in areas both East and West of cabo Catoshe. In 2011 we noticed many of the animals we recognised were missing. Many of the large mature adult whale sharks, and many of the large black manta we knew were gone completely from all areas. This was probably due to the horrific impact of the deepwater horizon oil spill that poisened many of them on their annual mirgration through gulf waters. Recovery of the larger animals is very slow, as they grow extreemely slowly. It is thought that whale sharks live to around 150 years old. By 2012 we are were seeing groups of 30-40 manta ray together, but not the larger black manta, just the smaller black and white variety, and also some mobua rays started to frequent the area. The Western area of Cabo Catoshe were void of animals, and the waters turned dark green. Still in 2013 there were less whale sharks and smaller animals, just 40 or more whale sharks in one small area East of Cabo Catoche. In 2014 over 100 manta ray in with the whale sharks, but less whale sharks in blue waters off of Isla Contoy. In 2015 we saw around 30 manta had returned to the West of Cabo Catoche, along with 20 or more whale sharks. Fewer whale sharks and manta were East of Cabo Catoche than in previous years. In 2016 the animals came much later, we shifted our visit to fit with the change. In nature everything changes, we never know what we will see from year to year. In 2017 whale sharks and manta were back both East and West of Cabo Catoche, however the animals were still small, many being juveniles or young adults. The larger mature animals were still lacking in numbers. Nature is every changing, but human impact is now hurting the whale sharks in multiple ways. Many tour operators are now over crowding some areas with day trippers who have no education on how to behave and boat captain who have no respect for these beautiful creatures or their feeding grounds.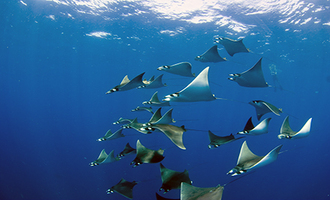 As with any wildlife expedition there is never any guarantee from mother nature, so times and length of encounters are up to the animals. That's why we go out multiple days in the areas with the most whale shark and manta, so we really do get the best encounters possible. We are so grateful to have had such amazing success on every expedition since 2005. Our average days are filled with long encounters. This is the most predictable place in the world to see these animals, and we always charter the boat at the absolute best time of the year for encounters and lots of anaimals. We restrict the number of guests on our boat to just six or seven, this is to protect the sharks and enable us to get awesome encounters. Just two people are permitted to snorkel with each whale shark, this makes for outstanding photo opportunities and hours and hours of enounters.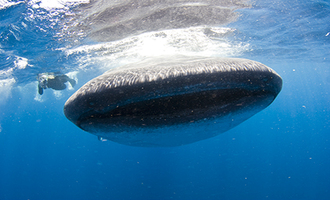 When you are not out on the boat, Isla Holbox where we stay, is an ideal place for relaxation.

The hotel has everything you might need, nestled amongst palm trees on it's own beautiful white sandy beach.

The island also offers an excellent choice of activities such as kite boarding, kayaking in the mangroves, fishing or flamingo island tours, while still retaining it's sleepy little village feel.

The little village square has some interesting craft stores and has a very relaxed and safe atmoshphere

. Roads are made of natural sand, this is a very simple place. It's uncomplicated friendly and welcoming, a place where you can just swing in a hammock with a fresh mint leaf mojito and watch the world go by.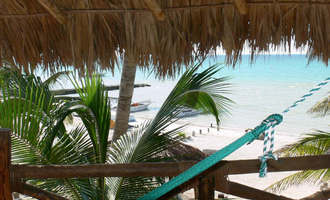 There are lots of bottlenose dolphins in this area. Until just a few years ago, before the protection of the reserve, the dolphins were a target for fishermen to be used as bull shark bait. Whale sharks were also hunted for their fins here. I started my anual expeditions the first year the protection was in place. We will be guided by one of the orignal and the most experienced of all the local guides, who has been with me since 2006. Our Captain has a keen sixth sense for finding the animals and is a genuinly kind man who cares about the animals.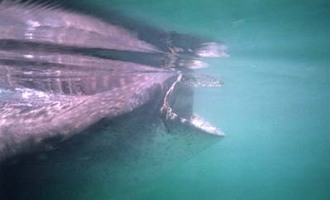 We LOVE sharks... Without sharks in our oceans our planet would loose its balance.
For full expedition itinerary and cost, please e-mail WildOceanAdventures@hotmail.com
WHALE SHARK - Rhincodon typus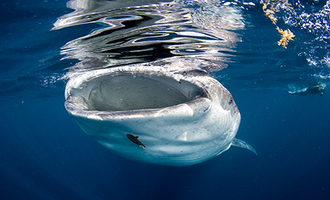 It's not a whale, it's a shark. Like baleen whales these huge sharks are plankton eaters, and do not have teeth. Whale sharks are the largest shark on earth. They can attain a length of 18m (60ft) or more and weigh up to 34 tons. In comparison, a big elephant weighs up to 6 tons. Whale sharks have a very distinctive coloration with the dorsal surface covered with white spots and stripes.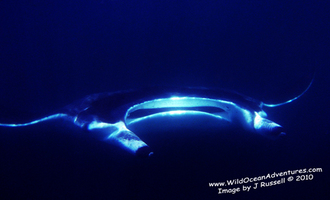 We go out to snorkel with these amazing animals each day for three days, after an early breakfast. Whale sharks and manta are wild animals, and so it's always best to have a few days to give us the best chances for seeing the animals. Later in the afternoon when the plankton go deep, so do the sharks and the manta ray, so mornings are the best time to see them. We use the rest of our afternoon to explore other areas like turtle reef, where we see pretty tropical fish, nurse shark and turtles. The mangroves are also a great place to explore at high tide, with tiny glass minnow, and hundreds of tropical birds. We see lots of bottlenose dolphin, and if we are really lucky schools of golden cow nose rays or mobulla ray or even sailfish. At night expectant mother turtles come ashore to lay their eggs in the soft warm sand, close to our beach front hotel.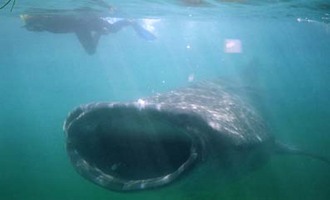 We get the best chance's to see manta and whale shark as we charter the best, safest and fastest boat in the area. We are able to travel fast between Isla Holbox, Cabo Catoche, Isla Contoy and Isla Mujeres depending on which area has the best weather, visability, and number of animals each day. Our informative guide and captain are great at putting us in the right position to get the absolute best encounters possible. We also get a good education of the area. We are out with the professionals, these guys are the best at what they do.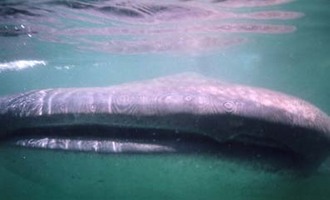 Cancun is our group meeting point as it is an easy airport for most to get to (Cancun International Airport). We then travel 2 hours in our air conditioned taxi van, then half hour on the island ferry, and island taxi, to reach our pretty island hotel. The taxi van journey is air conditioned, and very comfortable. We have a great driver, and we can take photos as we pass through the pretty towns and villages of the northern Yucatan. We also pass through wilderness areas which still have wild jaguar, although they are rare. Comfort stops are made on the journey, and a short visit to the amazing ancient Mayan tree of life and a drive past some unexcatated mayan pyramids is pretty interesting, and it makes the journey very special.
In recent years some captains without permits have been bringing tourists and invading the protected whale shark areas. Photographic study groups in Mexico, are using our images to help local campaigns to prevent rogue boats coming into the protected areas. This is helping prevent injury to whale shark, manta ray, golden cow nose ray, mobula rays, bottlenose dolphin, and six species of sea turtle who nest on the same beach as our hotel. Our daily permit fees (included in the expedition cost) go to the preserve and toward helping protect the animals. I am also working on an educational documentary, using footage from expeditions to help protect them further. By joining us on this expedition you can help protect the animals in a variety of different ways, while experiencing them up close in their own natural habitat.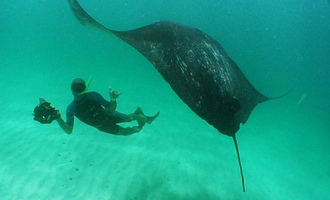 If you want to explore it's easy to add a day trip to Chichen Itza, Ek Balam Mayan ruins or the pretty underground Cenote swimming holes.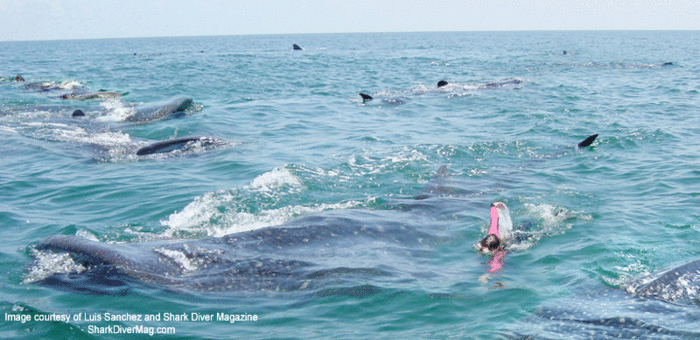 This is what it looks like in peak whale shark season, plenty of sharks for everyone.